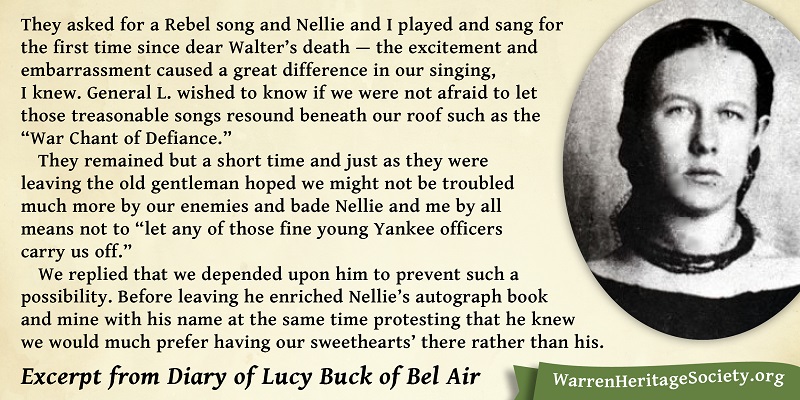 Our recent tour of Bel Air mansion was a smashing success.
Attendees enjoyed the tour of this historic mansion along with talks by local historians, delicious treats, and a reading from Lucy Buck's diary. Lucy's father was a prominent local merchant, and their ancestor Thomas Buck had built the original structure in 1795. Lucy's diary is one of five remaining local diaries recording the civilian experience of the Civil War. (Watch a video of the presentation here, courtesy of the Royal Examiner.)
For those who missed the tour, we have a sample below from the diary. Just from this short passage, history comes to life! Visit the Warren Heritage Museum to learn more about Lucy Buck and other local figures.   
And we are unable to share the image directly, but you may be familiar with this Mort Kunstler painting featuring General Lee and Bel Air, seen on his Facebook page, featuring the memorable visit she describes. 
Lucy Buck diary entry — July 22, 1863
A little after four o'clock the boys went over to town to see General Lee who was expected in and Father down to the river to see the pontoon bridges. Presently one of the little children ran in to say Father was returning with General Longstreet. It proved, however, to be General Lee with his staff.
They dismounted, some of them walked out under the shade of the aspens, some went to look at little Frank asleep in his wagon under the trees and the general with his chief and one or two others took his seat on the porch. Father stepped to the door and called Nellie and me and introduced us to him.
The old gentleman greeted us heartily with such a warm, fatherly manner and then turning introduced us to his staff one by one. He then said to me — "Won't you sit down, my daughter and let us talk some?"
I laid my hand on a chair standing near in compliance but he made room for me on the seat by him and said "No, not there, but here close by me." When I was seated I told him how much pleasure it gave me to see our defender — the Father of our State — he replied — "Oh, no! my daughter. I only wish he were more worthy of being seen. There! Look at those young Rebels (pointing to his staff) they're a great deal better worth your looking at — gallant young beaux that they are."
They asked for a Rebel song and Nellie and I played and sang for the first time since dear Walter's death — the excitement and embarrassment caused a great difference in our singing, I knew. General L. wished to know if we were not afraid to let those treasonable songs resound beneath our roof such as the "War Chant of Defiance."
They remained but a short time and just as they were leaving the old gentleman hoped we might not be troubled much more by our enemies and bade Nellie and me by all means not to "let any of those fine young Yankee officers carry us off."
We replied that we depended upon him to prevent such a possibility. Before leaving he enriched Nellie's autograph book and mine with his name at the same time protesting that he knew we would much prefer having our sweethearts' there rather than his.
Dear old General! — how I've always admired and loved him, but what a filial reverence mingles with that feeling now and how much more the father than the general he seems. How his hair is silvered and his brow marked with thought and care, yet what a noble, benevolent spirit looks forth from his brown eyes. What an air of dignity about his every movement. General Chilton was with him looking very natural.
After the war General Robert E. Lee wrote Lucy in answer to a letter and sent her a button from his uniform. These items are now on display in the Warren Rifles Museum in Front Royal. Come see us!