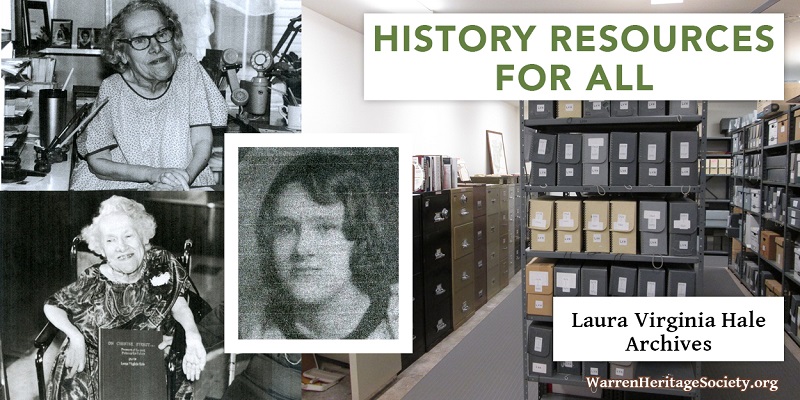 A small addition behind the Belle Boyd Cottage houses the Laura Virginia Hale Archives.
Belle Boyd was a flamboyant and fearless adventurer who made history; Laura Virginia Hale was an equally intrepid woman in her way. She overcame many obstacles throughout her life, her faith and  passion for historical research greatly enriching our knowledge of local history. 
Virginia's family moved to Front Royal when she was seven. That same year she became stricken with polio. She survived, but was left with a lifelong, severe disability. Virginia's parents homeschooled her, hiring tutors and making sure she had plenty to read. They involved her as much as they could in the family's activities, including Daughters of the American Revolution and United Daughters of the Confederacy. Virginia's mother was a strong woman whose deep faith was echoed in Virginia's spirit. 
After graduating high school, Virginia worked at home, researching, writing, and going out to give lectures to area students about the history of Warren County. When the local Daughters of the American Revolution talked about building a local Confederate museum in 1954, it was Virginia's can-do spirit that spurred the group to win contests for funding, and Dr. Bernard Samuels donated a lot on Chester Street for the museum location that became the Warren Rifles Museum.
Virginia spent many years researching the history of local Civil War soldiers, which were published locally, then followed with a series of articles on people, places, and events of the Civil War that was later compiled in a book,  Four Valiant Years In the Lower Shenandoah Valley, 1861-1865.
In the end, Virginia bequeathed 57 years of research, writings, notes, and research materials to the Warren Heritage Society. This small room houses a treasure trove for history lovers and genealogy. 
The Reading Room is open to the public and contains family genealogies, reference books on cemeteries, marriages, court records and histories of Warren and surrounding counties. We have copies of the Warren Sentinel, a photography collection, records on Revolutionary Soldiers and genealogies researched by Rebecca Good, a professional genealogist. If you are interested in family or history research, please visit the LVH Archives page for a more detailed list of our collection.
Currently the Archive is open Tuesday – Thursday from 10am to 4pm.  However, we could be available by appointment on Friday and Saturday. Ivy lodge is currently open Tuesday – Saturday with same hours. Tours are available during that time.
Our staff is available to assist you in your research. The entrance on the right side of the building is handicapped accessible.