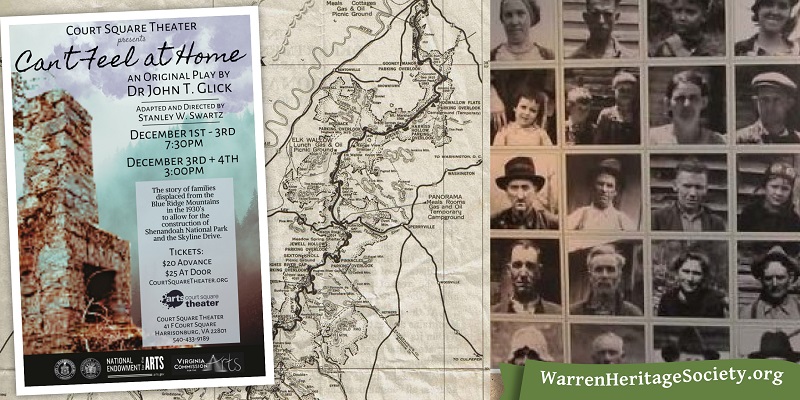 Can't Feel At Home, an original play by Dr John T Glick, premieres in early December (2022) at the Court Square Theatre in Harrisonburg, VA. (Tickets HERE)
Can't Feel At Home tells the story of families displaced from the Blue Ridge Mountains in the 1930's to allow for the construction of Shenandoah National Park and the Skyline Drive.
The Drive stretches from Front Royal to Rockfish Gap, in Augusta County, Virginia, before connecting with the Blue Ridge Parkway, which runs to North Carolina, so the project affected many, many people — 3,000 tracts of land and at least 500 families according to NPS.
As much as we all appreciate the beauty of the Drive and economic benefits of tourism, the forced relocation of many families brought a lot of heartache, and it is understandably a very personal subject for local residents who cherish their legacy of independent country life and the communities they forged.
Does your family have a story you'd like to share about Relocation? Let us know at Warren Heritage Society.
The creation of Skyline Drive displaced industry as well as residences. Belmont Winery, featured in an earlier post, was on Skyline Drive land! Much of the land that is now covered with trees was clear cut in earlier days. A bit about Virginia's forest history here.
We're looking forward to this play and hope to see you there. Buy your tickets now!
December 1-4 (2022) at Court Square Theater at 41-f Court Square, Harrisonburg VA.
Thurs (12/1) 7:30
Fri (12/2) 7:30
Sat (12/3) 3:00 & 7:30
Sun (12/4) 3:00
More about Skyline Drive and the relocation project:
Displaced Mountain People, a video production of VPN (Virginia Public Media). "Today, the two million people who visit the Park each year may not realize that if they listen close enough, they can hear the hearts of those who loved this land still beating in rhythm with the crickets."
Video here — "In the early 1930s, the Commonwealth of Virginia removed families from their homes in the Blue Ridge Mountains to make way for the new Shenandoah National Park. Graveyards, home foundations, and orchards offer hikers subtle reminders that the land was once called home to thousands of mountain people. This is a brief history of their lives, and displacement, within the current park's boundaries."
A Royal Examiner article about the Blue Ridge Heritage Project. Their website is here.
From Wikipedia: Groundbreaking for Skyline Drive took place in 1931. The first section, which originally was to run from Rapidan Camp to Skyland, was extended between Swift Run Gap and Thornton Gap and opened in 1934. Skyline Drive was extended north to Front Royal in 1936 and south to Jarman Gap in 1939.