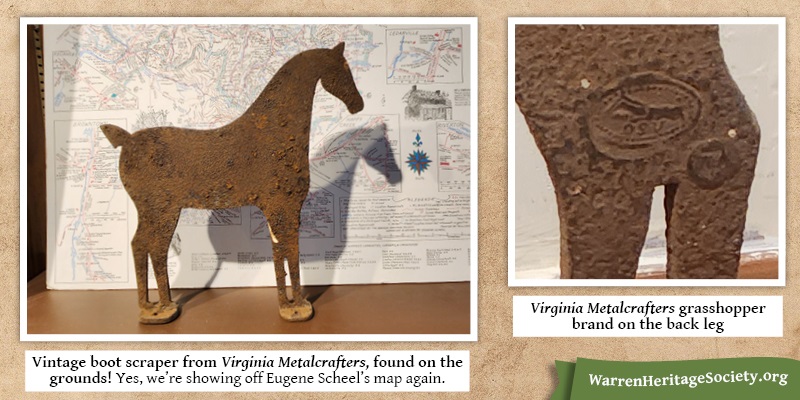 Take a look at this vintage cast iron Old Sturbridge Village BOOT SCRAPER made by Virginia Metalcrafters! Expert craftsmanship has an enduring appeal for us, as does the beauty of the horse. And yes, we're showing off Eugene Scheel's magnificent map in the background. 
This boot scraper was recently found in the ground here when Balthis House was renovated in July 2021. You just never know what you are going to come across in a historic area! 
This handsome horse is an early casting by Metalcrafters — and especially amazing, found in such great condition. It measures 13 x 12.25 inches and is still crisply marked with a grasshopper in a circle, 5-60, and the Metalcrafters mark. Made by VM for Old Sturbridge Village (est. 1946) in Massachusetts, it is a beautiful example of local Virginia industry.
Do you have a vintage object found on your property? Share in the Facebook comments or stop by to see us!
---
Some history of Virginia Metalcrafters, from Virginia Department of Historic Resources.
Virginia Metalcrafters had its first beginnings with the founding of the Waynesboro Stove Company in 1890 by William J. Loth. The enterprise moved in 1941 from its initial location in Waynesboro to an existing industrial complex built in 1925. The company expanded and occupied the complex until its closing in 2006.
Within the tradition of American decorative arts, the company built a reputation for high-quality historic reproductions of authentic designs and products. These were hand cast in bronze, iron, aluminum, brass, and pewter, using sandcasting, a method similar to what colonial-era craftsmen practiced.