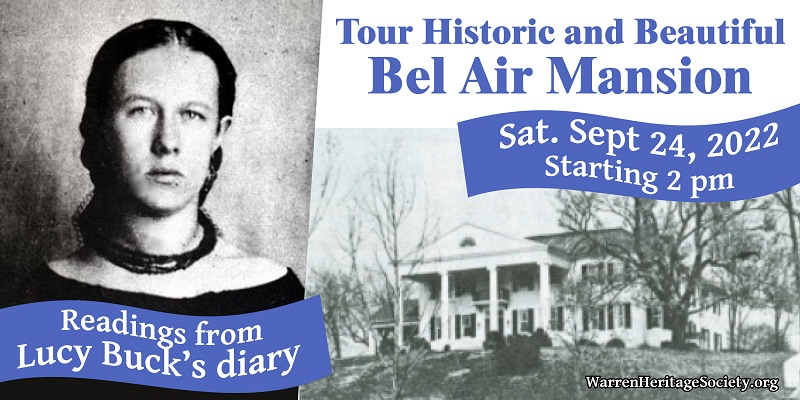 Join us for a tour of Bel Air Mansion on Happy Creek Rd in Front Royal.
How many times have you driven past this mansion on Happy Creek Rd and wondered if the interior is as beautiful as the exterior? This is your chance to find out.
Bel Air Mansion is the oldest masonry residence in Front Royal! Thomas Buck purchased the land in 1793 from William LeHew, and two log structures were built around 1795. By 1800, a two-story brick center, joining the two cabins, was added.
Gen. Robert E. Lee visited Bel Air in July, 1863, after the battle of Gettysburg. Prominent local merchant William Buck's daughters Lucy and Laura entertained General Lee by playing and singing southern songs. Lucy Buck's diary is one of five remaining local diaries recording the civilian experience of the Civil War.
In 1905 the Downing family purchased the mansion, removing the log wings and building a columned two-story portico in place of the one-story porch. The main part of the building is brick, which is stuccoed white. The stairway has been rebuilt with some of the old wood.
In 1985 the LeHew family became owners of this property again, so Bel Air Mansion has come full circle.
Join us for a tour and guest speakers, including Dick Hoover, who will give an Introduction of the Warren Heritage Society, and Jeff Lehew, who will provide an overview of the historic property. Excerpts from Lucy Buck's diary will be shared. Hors d'oeuvres are provided by Devin Smith.
GET YOUR TICKETS TODAY! ORDER ONLINE:
$50 non-members | $40 members